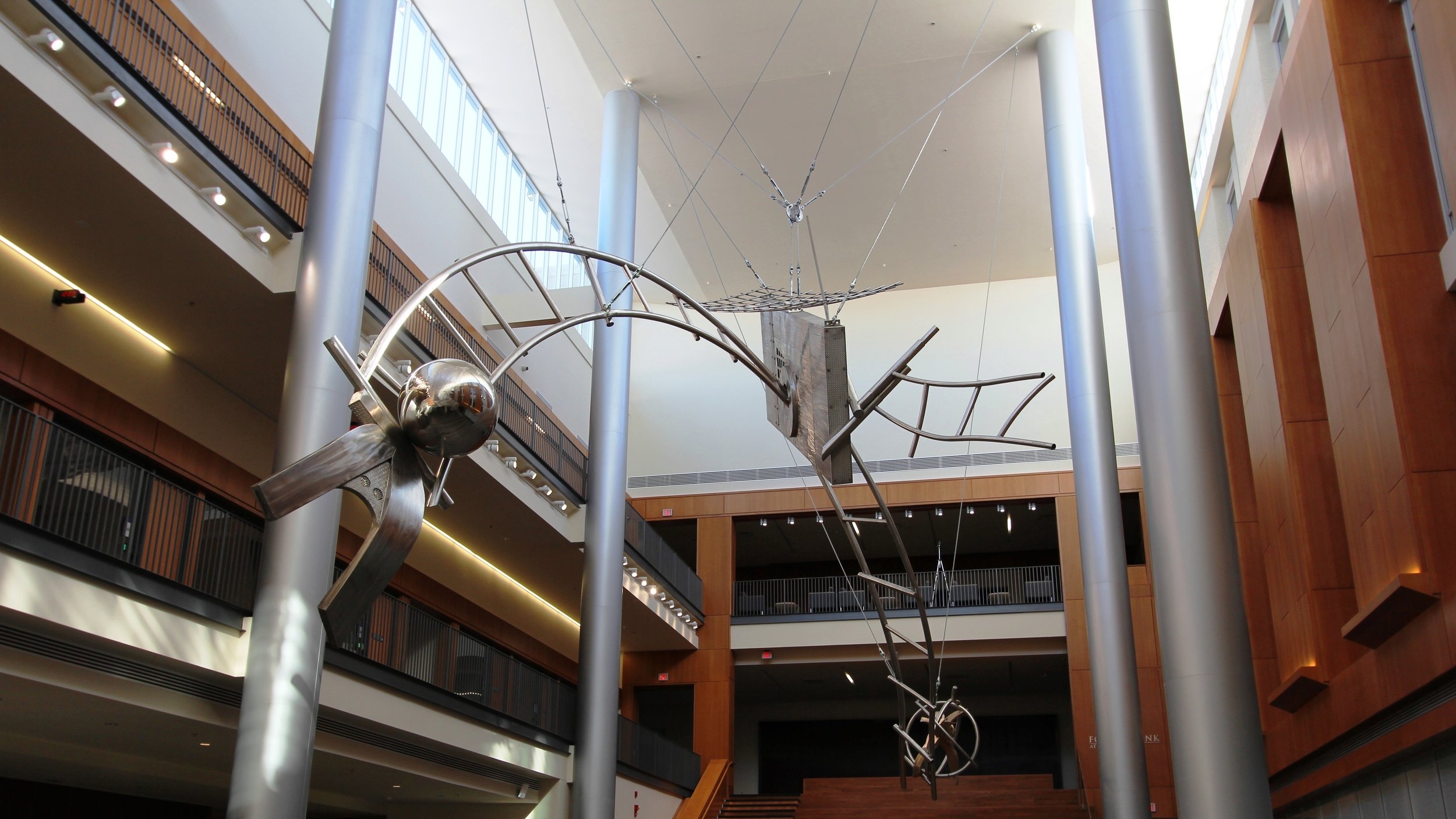 Brown + Kubican provided the structural engineering to suspend this stainless steel and bronze sculpture in the atrium of the Gatton College of Business and Economics at the University of Kentucky. The sculpture, created by UK Associate Art Professor Garry R. Bibbs (http://www.garrybibbsart.com/), is over 70 feet long and weighs approximately 7,500 pounds.
The sculpture is supported by wire ropes which attach to the roof structure. The center section, where most of the weight is concentrated, is hung by 2 wire ropes off of a stainless steel pendant created from 2 circular discs welded together. The pendant is supported by 4 wire ropes that connect to the top of the atrium columns just above the ceiling. 6 additional ropes are utilized to support the sculpture ends and to provide lateral stability.
The sculpture is located in the Gatton College of Business and Economics at the University of Kentucky, a project designed by Robert A.M. Stern Architects (http://www.ramsa.com) and Ross Tarrant Architects (http://rosstarrant.com) and structured by Brown + Kubican. The sculpture was installed in 3 weeks during the holiday break for UK in December of 2016 and January of 2017. Wilhite Limited (http://www.wilhitelimited.com) installed the support system using a combination of electric and chain hoists within the atrium, eliminating the need for a large crane and the need to penetrate the roof. Brown + Kubican worked with Wilhite to develop the hoisting system design, incorporating hookup points into the permanent support system and the sculpture for temporary lifting devices.
A new, $0.5M, 5-story steel frame rappel tower with rappelling wall, climbing wall and 2 fast-rope platforms.